ACIP (augered cast-in-place); APG (augered pressure-grouted); CFA (continuous flight auger). Whatever you choose to call them, augercast piles have been having an impact on the deep foundation construction industry since their initial development in the 1950's. They offer a speedy alternative to drilled shafts and a quiet alternative to driven piles.
However, based on projects that I've been involved with since 2005, when HJ Foundations (now Keller North America) and Loadtest Inc. performed the first-ever bi-directional load test on an augercast pile, it seemed that in Florida it was primarily the private sector that was taking advantage. The downtown Miami skyline has dramatically changed over the last 15 years, and under practically every one of the fancy new high-rise towers (all built on augercast piles) is buried a bi-directional load test jack or two. At the same time, Florida state and municipal agencies in charge of infrastructure projects seemed hesitant to utilize the technique.
Compiling research for this article however, I stumbled across a surprise. Contrary to my perception, augercast pile were in fact utilized in the past on at least one significant municipal infrastructure project – the Miami MetroRail, an elevated passenger light rail line constructed in the early 1980's. And they were utilized in a big way – under multiple station structures as well as bridge piers for crossing the Miami River and the SR-836 expressway. The test program alone had over 30 test piles along the initial alignment.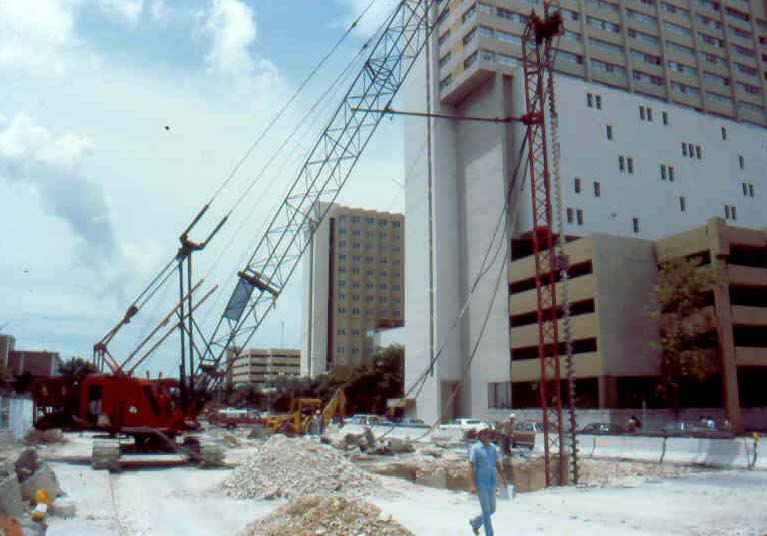 More recently, in 2016 All-Aboard Florida (now known as Brightline Florida) founded their downtown Miami heavy rail passenger station on 30-inch augercast piles. In 2019, the Florida Department of Transportation (FDOT) permitted the Signature Bridge, a landmark rebuilding of I-395 from the I-95 interchange to the MacArthur Causeway bridge, to be constructed on 30-inch augercast piles. The testing program included 11 bi-directional axial and three lateral load tests, all carried out by LTC.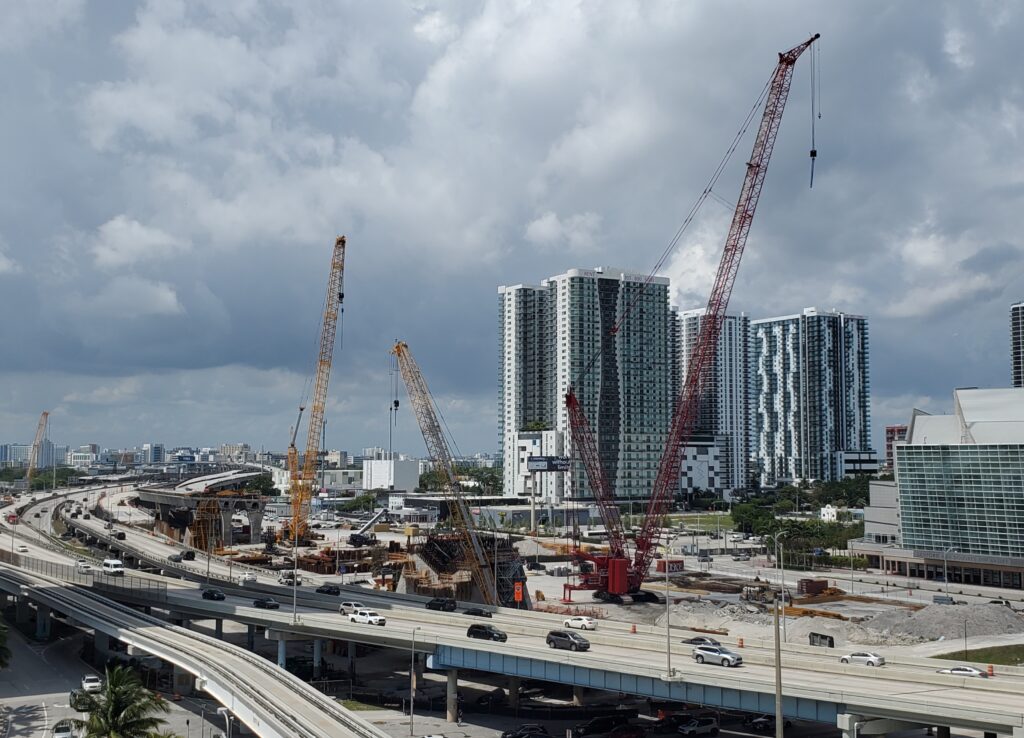 In 2022, the pace of application to various infrastructure projects seems to be picking up, with three separate projects in South Florida (Port of Miami expansion, Brightline Florida Aventura station in-build and the I-95/I-595 3C interchange upgrade) are all being supported on 24-inch augercast piles.
The piles for the MetroRail project were 14 inches in diameter, mainly 30 to 50 feet deep. It's possible that the reason it took so long for other infrastructure projects to utilize augercast piles is because the technology (more powerful rigs with longer, larger‑diameter augers) had to catch up to meet the heavy load demands and conservative design criteria for infrastructure span supports. In addition, QA/QC techniques like Bi-directional Static Load Testing (BDSLT) to prove pile capacities and Thermal Integrity Profiling (TIP) to verify as-built pile diameters and grout cover had to mature in order for this foundation system to gain the full confidence of state and municipal authorities. Now it seems that the method is finally being fully accepted, and hopefully has a sunny future in Florida infrastructure projects.